Well, Santa could just get rid of Rudolph but…
It sounds like Santa's having a bad day with Rudolph. The Elf is afraid that that the reindeer will bite him, and without Santa around, Rudolph just can't keep himself from eating the Snowman's carrot nose.
What is Santa to do? He and his crew need to cross a bridge, but Santa has to act as a guide and cross with each one. This bridge is sure making his travels complicated! Darn that global warming!
Well, let's think about it. On his first trip across, he has to take Rudolph with him, because he can't leave the reindeer with either of the other two. Who knows what would happen to them?
So, you get the Snowman and the Elf on one side and Rudolph on the other. Santa comes back to the original side and now has a problem, because neither the Elf nor the Snowman wants to travel across to be alone with Rudolph. Santa, being the persuasive guy that he is, convinces one of them (let's say the Elf) to cross with him. He has a solution, you see.
When he and the Elf get to Rudolph's side of the bridge, the Elf is looking particularly worried. Santa tells him not to fret — he's going to take Rudolph back with him.
He and Rudolph travel back together towards the Snowman — Rudolph has lots of energy from resting all year long, so he doesn't get tired. This time, Santa travels across the bridge with the Snowman, leaving Rudolph behind on the first side and pairing the Elf and the Snowman together on the second side.
Santa has just two trips left to make. He travels back alone along the bridge, collects Rudolph and then everyone joins up together at the far side of the bridge.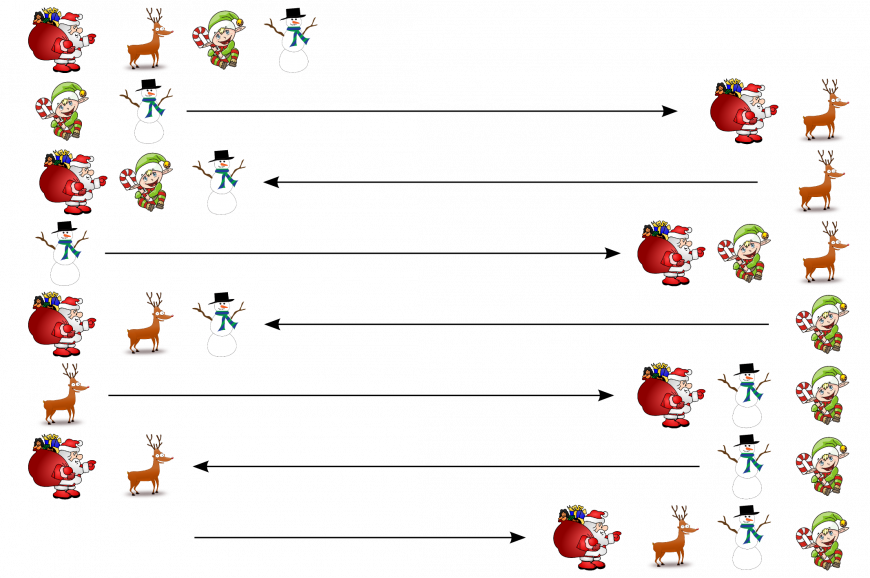 Source: http://thescienceexplorer.com/universe/can-you-solve-christmas-puzzle
http://easwaikato.co.nz/wp-content/uploads/2021/10/SPECIALISTS.jpg
0
0
Matt Egan
http://easwaikato.co.nz/wp-content/uploads/2021/10/SPECIALISTS.jpg
Matt Egan
2020-11-23 00:08:23
2020-11-23 00:08:23
Christmas Puzzle - December Newsletter